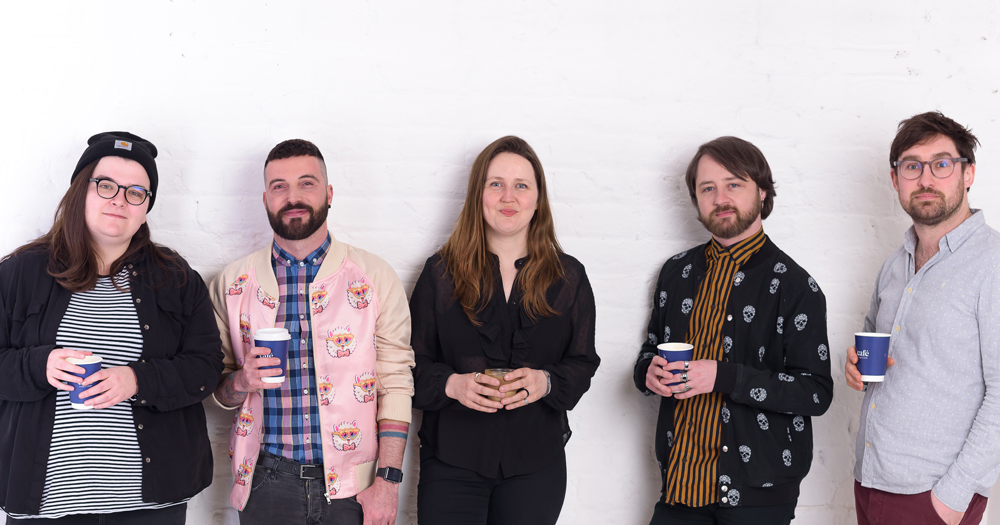 ---
Meet Team GCN just not before the morning coffee run.

---
Managing Editor, Lisa Connell
Lisa (she/her) is the Managing Editor of GCN with a responsibility for the performance and day to day management of the company according to the overall strategy. Lisa promotes both the charitable objectives of GCN and ensures the commercial viability of the business. She works collaboratively and strategically with the wider team to deliver a monthly magazine, daily website, events including the much loved Mother Club, protests and advocacy for and on behalf of the LGBT+community. Lisa prides herself on high level planning and project management in collaboration with brands, community groups, readers and all other stakeholders to deliver a vital community resource at the highest levels of professionalism and integrity.
You can get in touch at [email protected] for all things Mother, GCN and general big ideas.
Editor, Peter Dunne
Peter (he/him) is the editor of GCN magazine. Along with Managing Editor Lisa Connell, he is responsible for planning magazine content and commissioning both in-house and freelance journalists and photographers for each issue. Peter also creates articles for both the magazine and the online arm of GCN including interviews and LGBT+ community news both nationally and internationally.
You can get in touch at [email protected] for enquiries including information on writing opportunities with GCN.
Web Content Manager, Katie Donohoe
Katie (she/her) is the Web Content Manager of GCN and is responsible for the curation and management of digital media for GCN.ie including articles, video content, interviews and opinion pieces. She drives the digital creation of GCN magazine into its multimedia offering and collaborates with the editorial and commercial teams to ensure GCN's digital presence and development reflects the values of the company. Katie also works behind the scenes on the website to ensure readers have a seamless and enjoyable user experience.
You can get in touch at [email protected] if you would like to contribute to gcn.ie
Digital Marketer, Stefano Pappalardo
Stefano (he/him) is responsible for supervising and planning high-value, engaging content for both GCN's readers as well as clients. He successfully drives content delivery across all social media platforms by implementing strategic digital marketing plans and working his SEO magic, operating closely with the editorial, commercial, content and events team. He occasionally enjoys creating content himself, from videos to online reporting.
You can get in touch at [email protected] for enquiries regarding all things digital.
Advertising Sales Assistant and Distribution Manager, Marlon Jimenez
Marlon (he/him) is responsible for connecting to businesses, building and maintaining relationships and showing advertisers why investing in GCN – Ireland's beloved LGBT+ publication is great for their brands. Marlon's proven track record in customer service combined with marketing and psychology plus his friendly personality, are crucial elements for managing relationships with our clients, fostering sponsorship opportunities, informing them how to best speak to our readers and selling across all platforms: print, online and event specific sales.
You can get in touch at [email protected] for enquiries on how to invest your advertising budget in GCN.
Samantha Mc Caffrey
Samantha Mc Caffrey (She/ her) is responsible for GCN's community engagement and our magazine's development at a local level. She works with Marlon to make sure that our fabulous magazine is getting to all the right people and places. She will be soon working with a team of volunteer ambassadors to spread the GCN word and magazine further and wider. She is also developing projects and local initiatives based around strengthening and growing our relationships with other support organisations and collaborators in the community such as youth projects, local LGBT+ groups, libraries, family resource centres and arts organisations.
You can get in touch at [email protected] for enquiries regarding community engagement.
Designer, Dave Darcy
Dave (he/him) has been the art director for the company for over seven years. He is responsible for all visual communications and branding. In celebration of GCN's milestone anniversary, Dave collaborated with curator Tonie Walsh to deliver the stunning exhibition 'Proof: 30 Years Of Gay Community News' and led the magazine through its beautiful and thoughtful rebrand.
You can get in touch at [email protected] for enquiries regarding design.
---
Work With Us
For information on current job openings and to find out about our submissions policy, check our careers section.
---
© 2017 GCN (Gay Community News). All rights reserved.
Hey there!
Enjoying GCN?
You have read all free 5 articles on GCN this month.