100K in May
Can you walk or run 100K in May for GCN? We are very excited to launch the #GCN100KinMay fundraising campaign for Ireland's national LGBTQ+ press with the support of our friends at Life Style Sports.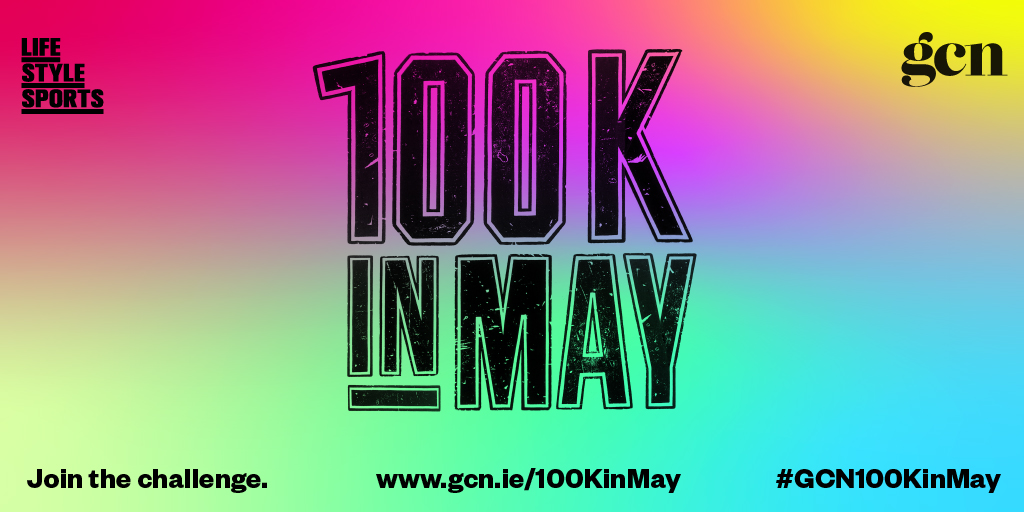 Can you walk or run 100K in May for GCN? 
We are very excited to launch the #GCN100KinMay fundraising campaign for Ireland's national LGBTQ+ press with the support of our friends at Life Style Sports. 
GCN celebrates 33 years in publishing this year and like many other charitable organisations, COVID-19 has had a massive impact on our ability to raise funds in order to continue providing a free, independent LGBTQ+ media resource for the community and its allies in Ireland. 
We also know how important it is for our community to get active and stay active for our physical and mental well-being. Running and walking has been a lockdown lifeline for so many of us, and so as we step bravely into the next few months as a connected community, how better to raise some much-needed funds for your national LGBTQ+ press than to hit the streets, set a challenge and get moving. Good for us, good for you!
With this in mind, we're delighted to announce a special fundraising project – 100K in May. Our friends at Life Style Sports have come on board to support our endeavour and will provide seed funding for the project with a generous starting donation of €3333.33 – to mark our 33rd birthday!
Life Style Sports will also support you whether you decide to donate or take part in the challenge yourself. With special discount codes and vouchers for folks who join the #GCN100KinMay challenge or donate in the month of May. 
How do I join the 100k in May?
Just start running or walking on May 1st and create your own Facebook fundraiser online here. Track your progress through the month and share it with your friends and supporters using the hashtag #GCN100KinMay.
If you are not on Facebook, you can also point your supporters to this page where they can donate below. 
Track and share your updates on Facebook/Twitter/Instagram tagging us and using the #GCN100KinMay hashtag.
If you'd like to get in touch about the challenge throughout the month or find out more about the Life Style Sports offers email [email protected]
I'd just like to donate! 
GCN's Managing Editor, Lisa Connell, and Editor, Peter Dunne, are some of the members of the team at GCN signing up for the challenge.
You can sponsor Lisa, Peter and any other participants who'll be running/ walking 100K in May by donating what you can to our fundraiser page.
You can also head to make a donation directly here, filling out the form below.
FAQs
How do I track and share my progress?
Team GCN will be tracking their progress through the Map My Run app and will share their updates. Feel free to use your preferred running app. Sharing is caring so why not share your progress on your Facebook Fundraiser page or any other social media using #GCN100KinMay. You can also join our "GCN 100K in May" Facebook group to log your progress and support everyone taking part in the challenge. 
What is a Facebook Fundraiser page?
It's a page you can create in under a minute within Facebook and raise money to support GCN, Ireland's free LGBTQ+ press. Your friends will see that you have created it and will see it every time you post a picture or update to the fundraiser. You set your own target and end date.  The money goes directly to GCN.  
How do I change the target and/or the end date on my Facebook Fundraiser?
Go to your Facebook Fundraiser. Click on the 'More' Option, select 'edit fundraiser', change the amount and/or the end date and save the changes. If you don't extend the date the default setting by Facebook is 14 days so your fundraiser will end after this time.
How can I encourage donations on my online fundraiser?
Make sure to post your progress on your fundraising page. This can be as frequently as you like, whatever works for you. Posting your distance means sponsors can see how you're progressing with the challenge and it means that at the end of May we can see you have completed the challenge. 
How will I receive Life Style Sports discount codes and vouchers?
We'll get in touch with you wonderful people who supported #GCN100KinMay to redeem your voucher codes.
If you want to find out other ways you can support Ireland's free LGBTQ+ press visit www.gcn.ie/support.
© 2021 GCN (Gay Community News). All rights reserved.
Hey there!
Enjoying GCN?
You have read all free 5 articles on GCN this month.