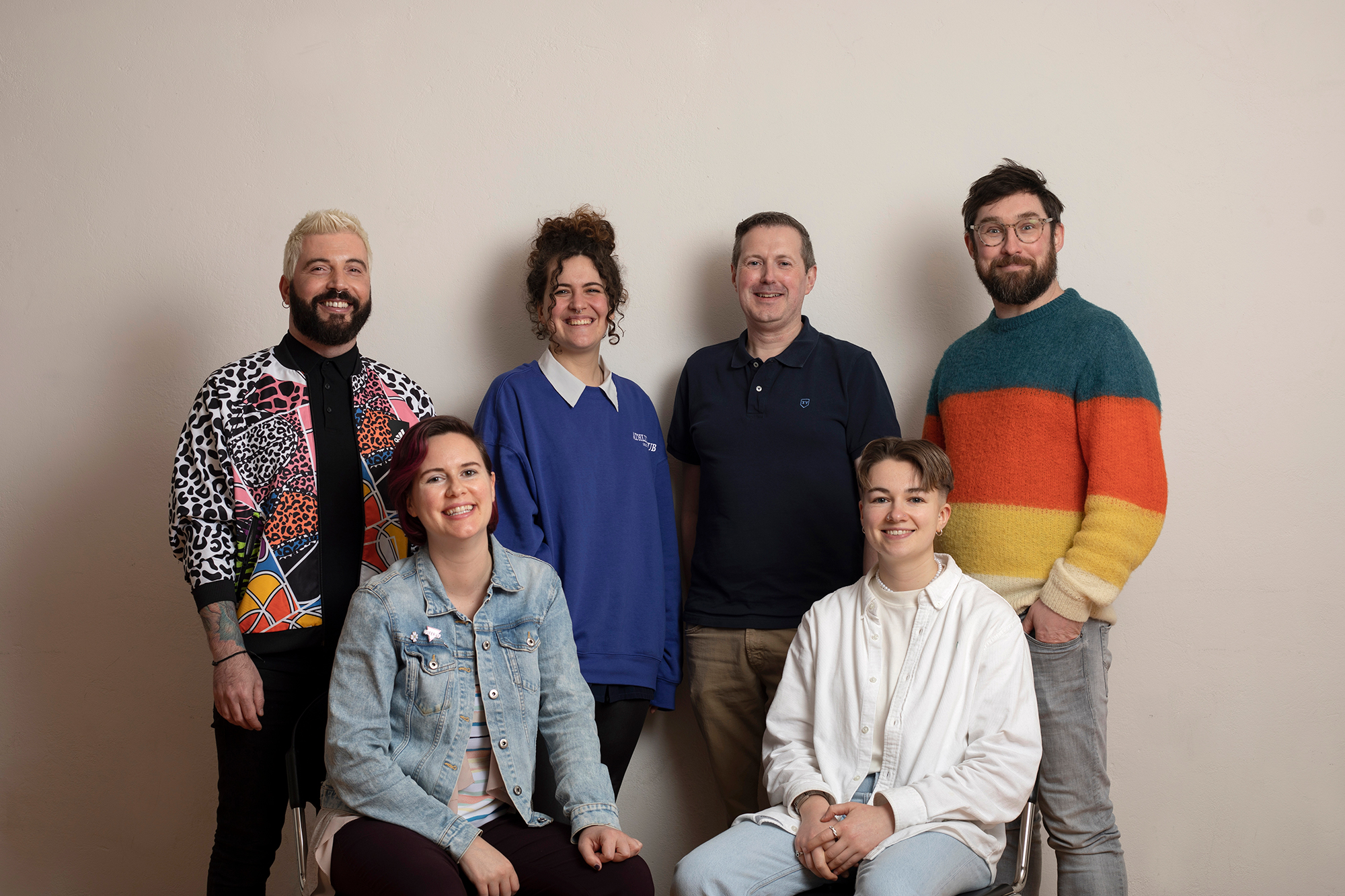 ---
Meet Team GCN just not before the morning coffee run.

---
Group Manager, Michael Brett
Michael (he/him) is the Group Manager of GCN with a responsibility for the performance and day-to-day management of the company according to the overall strategy. Michael promotes both the charitable objectives of GCN and ensures the commercial viability of the business. He works collaboratively and strategically with the wider team to deliver GCN's magazine, a daily news & info website, events and GCN's digital content. Michael has a background in Irish media, having worked with some of the biggest broadcast brands in the country for over 20 years. Michael will take the lead on GCN's collaboration with brands, community groups, readers and all other stakeholders to deliver a vital community resource at the highest levels of professionalism and integrity.
You can get in touch at [email protected] for all things GCN and any big ideas.
Head of Digital, Marketing & Development, Stefano Pappalardo
Stefano (he/him) is responsible for leading and overseeing all areas of digital, implementing processes and strategies, creating and planning high-value content, campaigns and initiatives. He successfully drives content delivery across all digital platforms through strategic marketing plans, operating closely with the editorial, commercial and events teams. He manages GCN's social media channels and website, ensuring its optimisation to deliver a seamless experience for readers and advertisers alike. He is responsible for training, internships and volunteering programmes. Stefano oversees all aspects of GCN's merchandise and online store.
You can get in touch at [email protected] for enquiries regarding all things digital.
Designer, Dave Darcy
Dave (he/him) has been the art director for the company for over seven years. He is responsible for all visual communications and branding. In celebration of GCN's milestone anniversary, Dave collaborated with curator Tonie Walsh to deliver the stunning exhibition 'Proof: 30 Years Of Gay Community News' and led the magazine through its beautiful and thoughtful rebrand.
Commercial and Fundraising Executive, Aarya Bhutani
Aarya (she/her) is responsible for connecting to businesses, building and maintaining relationships and showing clients why advertising in GCN – Ireland's LGBTQ+ media is great for their brands. Aarya's proven track in marketing combined with psychology and her friendly personality, prove crucial for managing relationships with clients, fostering sponsorship opportunities, informing them how to best speak to our readers and selling across all platforms: print, online and event-specific sales. She is also responsible for looking after the revenue streams of the organisation through fundraising initiatives.
You can get in touch at [email protected] for enquiries regarding partnership opportunities.
Distribution and admin assistant, Beatrice Fanucci
Beatrice (she/her) is responsible for the operational aspects of GCN's online store, ranging from order fulfilment to customer service. She also oversees the distribution and manages subscriptions of GCN magazine.
When she is not busy with this, she also writes content for GCN's website, social media and print magazine, with a particular interest in politics and society.
You can get in touch at bea@gcn.ie for enquiries about GCN's online store, distribution and subscriptions to the GCN magazine.
Editorial Assistant, Han Tiernan
Han (she/her) is the editorial assistant with GCN. She works alongside Editor, Peter Dunne and Managing Editor, Lisa Connell to create and publish the magazine. She also supports the team in creating online content to inform, give voice to and support Ireland's LGBTQ+ community. She is passionate about LGBTQ+ history and is a dedicated advocate for minorities within the community.
You can get in touch at [email protected] for enquiries about GCN's print edition.
Multimedia Journalist, Alice Linehan
Alice (she/her) works across various mediums to create content for GCN. She is responsible for writing and reviewing articles for the website and magazine, interviewing prominent Irish and international LGBTQ+ talent and activists, filming and editing videos for GCNtv and overseeing the production of live streams. She also assists with social media management from time to time, but her main passion is writing content to platform the issues, interests and accomplishments of the queer community.
You can get in touch at [email protected] for enquiries about multimedia content.
Online Content Creator, Nicole Lee
Nicole (she/her) is GCN's Online Content Creator. She feels lucky to be using her writing and editing background to create daily content and write long-form articles for our print magazine. She is also responsible for curating the digital edition of GCN magazine.
You can get in touch at [email protected] for enquiries about online content.
---
Work With Us
For information on current job openings and to find out about our submissions policy, check our careers section.
---
© 2017 GCN (Gay Community News). All rights reserved.
Hey there!
Enjoying GCN?
You have read all free 5 articles on GCN this month.