GoFundMe To Give Trans 12 Year-Old Threatened By Adults A New Home Reaches $45K
The GoFundMe account was set up to move Maddie Rose out of her small town in the wake of appalling online threats from local parents.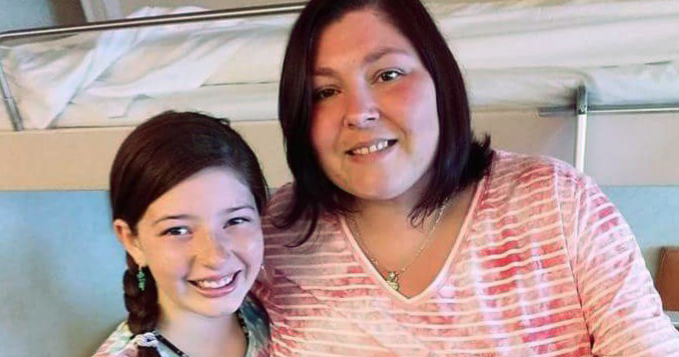 Maddie Rose, a 12 year-old trans girl, received international attention when a series of appalling threats made on her safety by a parents' group page on Facebook became public. Many were horrified when they read how some suggested hunting, beating and castrating Maddie for using the girl's bathroom on her first day of school. One of those people, L Anne Babb, went as far as setting up a GoFundMe account to raise money to move the family from their unwelcoming community.
Titled 'A Move For Maddie', the GoFundMe was set up with the intention of raising $15,000 to enable Maddie's family to leave their town of Achilles, Oklahoma and move closer to other family members in Heuston. Babb explained, "I estimated the cost of moving to Houston for this family with several children, tallying first and last month's rent, utilities deposits, and a financial 'cushion' until both parents find work and the kids are settled in new schools. I hope that by working together, we can also fund several months' worth of supportive counseling for Maddie, who has herself become quite an advocate and has raised money for suicide awareness and prevention."
When contacted by Babb, Maddie's mother Brandy said, "I don't know if a GoFundMe is asking too much, but I think it wouldn't hurt to try, if you would be willing to do that for her, we would be forever grateful!" Brandy continued: "Thank you so unbelievably much for your support, and reaching out to my family!"
At the last count, the GoFundMe had far exceeded original hopes, hitting $45,000. 
The story began when 12 year-old Maddie used the girls bathroom on her first day of seventh grade. Maddie has identified as a girl since 2015, but up until that point had used the teachers bathroom. On that first day of school, Maddie had needed the bathroom and didn't yet know where the staff bathroom was, so used the ladies. Another student's parents heard of this and posted a disgusting message to a Facebook group.
Posting on the Achille ISD Parents Group, Jamie Crenshaw said: "Heads up parents…the transgender is already using the girls bathroom. We have been told how the school has gone above and beyond to make sure he has his own restroom yet he is still using the girls." While the post continued to complain about and misidentify the trans girl, it was mild compared to what was to come.
Fully grown adult commenters called 12 year-old girl Maddie: "it" "thing" and "maggot". One said: "If he wants to be a female make him a female. A good sharp knife will do the job really quick." Another suggested: "Just tell the kids to kick ass in the bathroom and it won't want to come back". A friend of Crenshaw's suggested having her child attack Maddie – "Let Parker whip his ass until he quits coming to school".
Other ignorant comments followed along the same disgusting tone.
Grown adults threatening mutilation of a preteen trans child in our own backyard. This is unacceptable – if anyone knows the parents of this child, please let them know that we want to help in any way possible. To the Achille ISD: Expect to hear from us soon. https://t.co/Be8dhuHLfT

— PFLAG Oklahoma City (@OKCPFLAG) August 12, 2018
Following the discovery, Maddie's family filed for a protective order in court, which then led to an FBI hate crime investigation. Under advice, the school closed down for two days to deal with the fall out from the transphobic abuse going viral. Maddie's mother told local news: "These are adults making threats to a child. I don't understand it. She's just an awesome kid, and then to see any fear in her like that. I can't explain how bad that hurts me."
The local branch of PFLAG (Parents and Friends of Lesbians and Gays) wrote a letter to the school district saying: "The Achille ISD community MUST show that they stand by their stated values by actively and publicly supporting and protecting this family. This should include not just the child but also her parents, who we imagine are also heartsick, angry, and terrified for their child's safety. That is the reality too many families in the LGBTQ community face on a daily basis."
Those interested in contributing to 'A Move For Maddie' can do so at this link.
© 2018 GCN (Gay Community News). All rights reserved.
Hey there!
Enjoying GCN?
You have read all free 5 articles on GCN this month.