In light of the closure of GLEN, we take a look back at some of the organisation's biggest moments through its 29 years.
Founded in 1988, GLEN (Gay and Lesbian Equality Network)'s primary aim was to secure the equality of Ireland's LGBT citizens campaigning for legislative changes. Over the years, the group has done just, that playing a pivotal role in securing Civil Partnership in 2009.
Campaign for Civil Partnership/ Marriage Equality (2009)
Though the organisation was criticised from some quarters for supporting civil partnership, what some saw as a 'half measure' brought in by a cautious and conservative government, the introduction of civil partnership was unquestionably a momentous event in the history Ireland and GLEN.
From 2000 onwards, members of GLEN met with advisory groups and politicians from successive governments, establishing various working groups "to bring to government legislative options for same-sex and other classes of relationships."
After the Civil Partnership and Certain Rights of Cohabitants Act was signed into law by the President Mary McAleese in July 2010, GLEN joined the ranks of those calling for full civil marriage equality for LGBT people. The organisation joined forces with Marriage Equality (who had been opposed to civil partnership) and together founded Yes Equality, which began campaigning for marriage equality.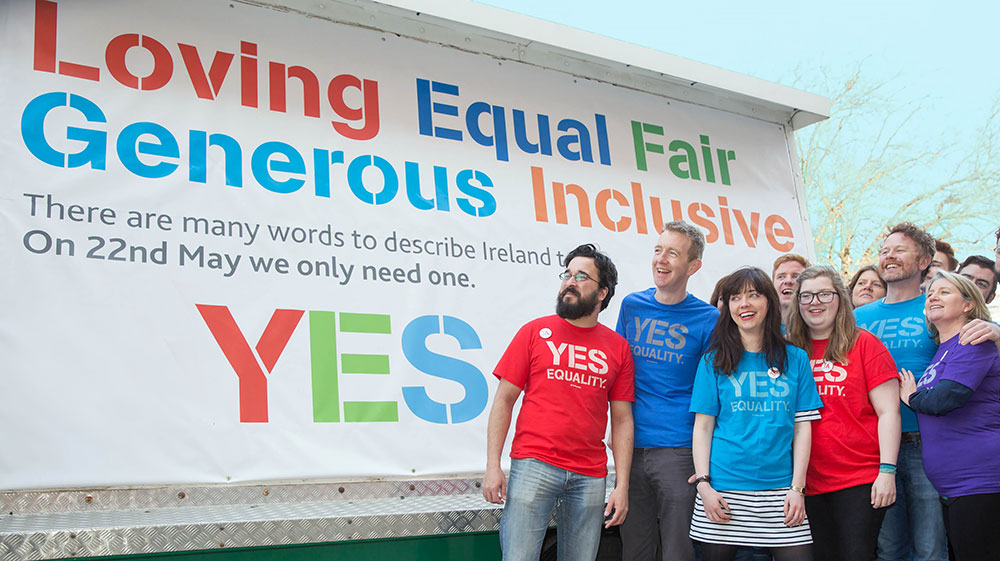 Fortunately, all the hard work by all the various groups and individual campaigners paid off when on May 23 Ireland's referendum on marriage equality passed with 62% of the vote.
© 2017 GCN (Gay Community News Ireland). All rights reserved.