Renowned for their annual Eurovision bash, super-social Andrew Martin and Thomas Byrne wanted to make their Real Weddings celebration their biggest and best party ever, so they pulled out all the stops.
Real Weddings: Andrew & Thomas was originally published in the February 2017 Issue of GCN (Issue 326) which is available to read online here. 
Five years ago in the now defunct Dragon, Andrew Martin and Thomas Byrne walked into each other's lives, as they both put it, "the good, old traditional way". According to Andrew: "About ten minutes into the conversation at the bar, Thomas started to walk off, saying, 'I'll see you later, I'll give you a kiss then'. I said, 'You're going nowhere, you'll kiss me now'."
So began a relationship that's as steeped in romance as it is in shared activity. Every Easter Thomas creates a treasure hunt for Andrew, placing clues that lead to one another, taking him across Dublin city. Two years ago, because Andrew was working during Easter, Thomas arranged the treasure hunt for Valentine's Day. It gave him the perfect opportunity to propose.
"I'd given him a Valentine's card that morning saying, 'Best Boyfriend in the World'," Thomas remembers. "The clue at the end, which he found in the Garden of Remembrance, said, 'Happy Valentine's Day, husband… will you marry me?'"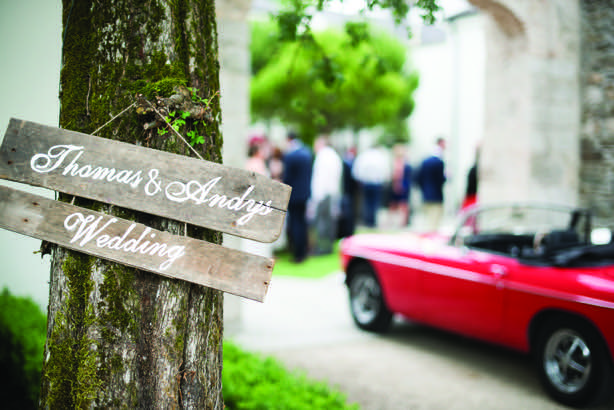 Real Weddings – Planning Shared 50-50
"It was a complete shock," says Andrew. "I got very teary-eyed. Thomas had hidden a bottle of Prosecco in the bushes, and from there he'd booked a table in the Westbury for afternoon tea, where we nished off with champagne."
After their engagement the couple got heavily involved in canvassing for marriage equality. "We were out every single night for six weeks," says Thomas."A nice part of that was to be able to tell the people at the doors that we were actually getting married."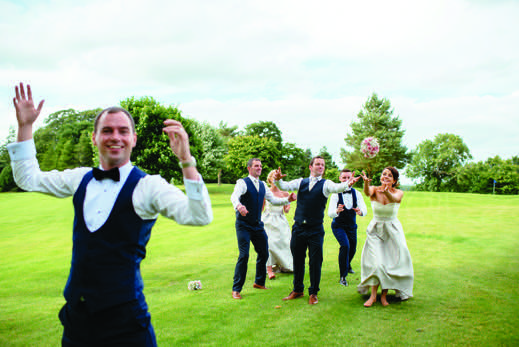 Planning their wedding was a 50-50 affair, with the pair's compatibility coming into play. "I tried to be the creative one, to come up with the ideas, and Thomas is really good at making those ideas work," says Andrew.
"We did a lot of DIY stuff, we made our own invites, we made our own menus, we were out digging up palettes to make signs with them, and all sorts of things. We love entertaining, we love having people around, so we felt this was the biggest party we were ever going to have, and we put absolutely everything into it."
Keep reading to see what venue Tomas and Andrew chose for their Real Weddings celebration!
© 2017 GCN (Gay Community News Ireland). All rights reserved.