Celebrity Big Brother Recap, Day 6: Chloe And The Wet Butt Print
Angry Natalie was angrier than a bag of hungover wasps last night with Kidnapped Chloe bearing the brunt, Kirstie's Storytime inspired some dirty dancing, and Psychic Sally guessed some stuff well.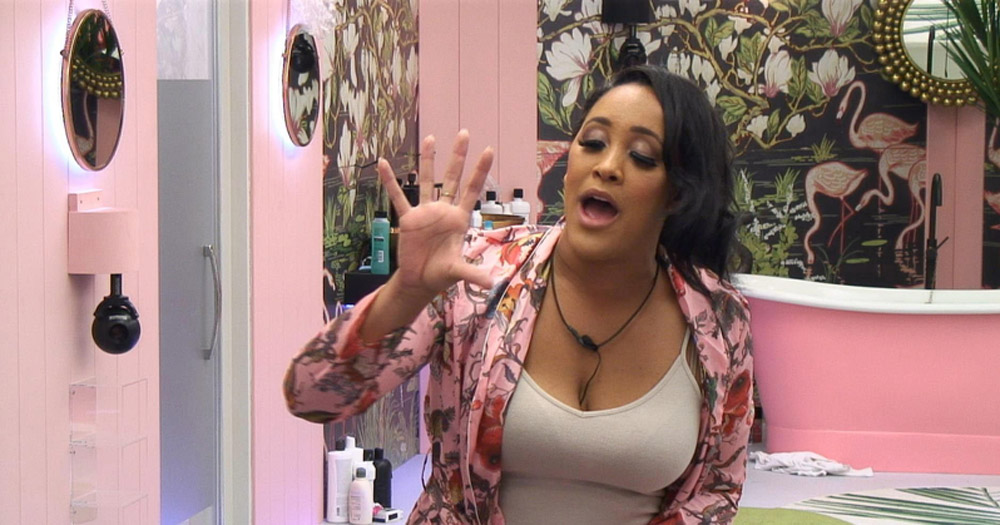 When an episode of Celebrity Big Brother kicks off with the 'HEATED AND INTENSE CONFRONTATIONS ' warning, you know it's gonna be a good one.
The state of the gaff is the number one topic of conversation. Kirstie bemoans a mystery hair and multi-coloured shampoo streak. Elsewhere, someone has left a wet butt print on Natalie's chair (watch out!). Guess no one told the Americans that squalor, lack of sleep and basic rations are what the CBB experience is all about.
Psychic Charlatan and Angry American have a chat about reasons for the latter's nomination for eviction. PC tells Natalie that it wasn't what she said, but rather her "inclination" that upset people, evidently confusing the word "intonation" with "inclination". You'd think one of the ghosts would've set her straight.
Ben (who was in Channel 4's Married At First Sight, a show where participants marry someone they have never met because they get to be on telly) has been flirting with Roxanne. It's weirdly robotic and kind of perfunctory, but also kinda moot since she has a fiancé. Or is it?
Later on, Kirstie has a meeting about the state of the house. Everyone is on board with a communal cleaning schedule, except of course for Natalie, who at this point is committed to arguing any point raised in the house. She insists she won't clean up after anyone but herself.
Natalie rounds on Kidnapped Chloe for sitting on her make-up chair while she was wet. Rodrigo tries to be nice to Chloe. Natalie EXPLODES telling Rodrigo to "shut the fuck up." She storms out to the smoking ghetto and gets super judgemental about Chloe ("she's a page 3 model in her to be promiscuous, to show her tits").
Then comes the promised 'heated and intense conversation'. Angry Nat seeks Chloe out in the bathroom and confronts her some more. What follows is extremely uncomfortable and when Big Brother intervenes and Nat immediately goes to the Diary Room, she blames the vapid Chloe for antagonising her. "Don't come for me, unless I send for you," she tells Big Brother.
She is completely obsessed with the chair. But's not really about the chair, is it? It's about Natalie being angrier than a bag full of wasps with a hangover.
Time for more Storytime With Kirstie: she kissed Patrick Swayze but they were both married, and she says she nearly ran off and married Travolta. "John Travolta is definitely a heterosexual," she didn't say. The story inspires Dan to do the Dirty Dancing lift with teeny Roxanne and also Ben, who ends up being cuddled like a baby panda.
Elsewhere, Psychic Sally facilitates mediation between Natalie and Chloe. There is a huge JUDGEMENT BOMB! Natalie doesn't like Chloe because she's not a celebrity. She seems to be under the illusion that she is a celebrity? Seriously, WHO IS SHE, EVEN? At least Chloe's kidnap made her sort-of famous. Natalie's claim to fame is fighting with people on Twitter. The woman is certifiable. The scene goes exactly like this:
(Not really) Psychic Sally reads people extremely well – it is literally her job. So BB gave her a task – she has to guess if the housemates are telling the truth or using alternative facts. She gets most of them right and gets her favourite food as a reward: jellied eels. She's part Kray twin, part Elton John impersonator, part snake oil saleswoman, is Sal.
Married At First Sight guy Ben tells BB that he likes Roxanne and mentions she has a Rocky tattoo. Better book the church now Ben – she's a keeper.
Later, Natalie apologies to Chloe, but even her apologies are delivered in the same cadence as a rant about Trump. Dan and Gabby have a great laugh about how once the public see them just being mates, all tabloid speculation about them having an affair will be squashed. NOPE.
Curled up in bed at the end of the episode, Nat and Rod dust off their library cards, and pour a steaming hot cup of T. They discuss Roxanne and Ben's "chemistry" – but she's got a fiancé! Both are convinced that Dan and Gabby would definitely hook up if the cameras weren't around.
Natalie, who apparently is capable of a volume other than EXTREMELY LOUD whispers to Rod that if Gabby hooked up with Dan, the public would evict her. "I know they say nothing has happened between them," says Rodrigo. "I'm pretty sure something has happened". That grotesque visage belies some sound wisdom!
Celebrity Big Brother, 9pm nightly on TV3 and Channel 5. Follow Ciara on Twitter @Mc_Ranter and read her blog, Adventures in TV here.
© 2018 GCN (Gay Community News). All rights reserved.
Hey there!
Enjoying GCN?
You have read all free 5 articles on GCN this month.