Embracing LGBT+ employees in a culture of equality
Brendan Byrne from Accenture speaks about the progress companies have made in terms of their LGBT+ employees.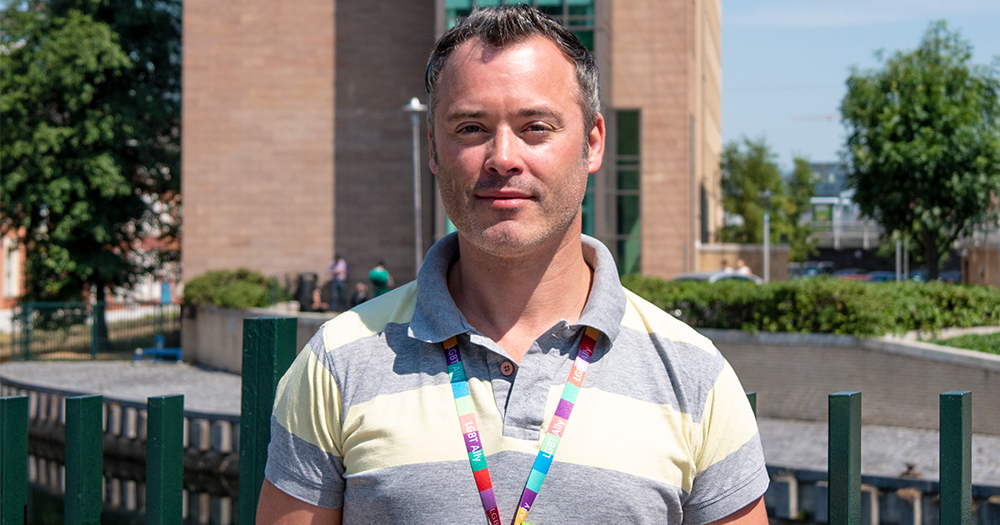 This past weekend marked 50 years since the Stonewall riots and was an opportunity for many people around the world to commemorate the birth of the Pride movement and reflect on how far the LGBT+ movement has come. In business we have also seen significant progression during this time. More recently, some of the world's largest organisations, including Accenture, united with the World Economic Forum to implement the UN LGBTI Standards. These standards draw on good practice from around the world, setting out actions that companies can take to protects the rights of LGBTI employees, including eliminating workplace discrimination.
Today we see organisations visibly demonstrating their support during Pride month but there is always room for improvement and further advancements for the LGBT+ community. In fact, there is clear evidence of the positive role and influence that business can have in inclusion for all.
At Accenture, our commitment to LGBT equality is just as visible within the workplace. We have an ambition to be the most inclusive and diverse organisation in the world and have been on this journey since launching our first inclusion and diversity strategy over 20 years ago. In September 2018, Thomson Reuters ranked Accenture the No. 1 company in its index of the world's most diverse and inclusive companies.
Our latest 'Getting to Equal' research examines how a culture of equality embraces the majority of 40 workplace factors that influence advancement at work. These factors include a diverse leadership team, employees not being asked to change their appearance to conform to company culture and employees having the freedom to be themselves at work. Where more of these are present, LGBT+ employees are more likely to thrive and advance.
The findings highlighted that where a culture of equality was present in an organisation, LGBT+ employees were up to three times more likely to advance to senior manager level or above. They were also three times more satisfied with their career progression. On the flip side, in organisations where these factors are less common, LGBT professionals were twice as likely to face discrimination and/or harassment in the workplace – which we know can have a serious impact on mental health.
Locally, our 'Pride at Accenture Network', which I lead, is a network that brings our LGBT+ community together to focus on a number of important initiatives that create a positive culture for our LGBT+ employees. We plan monthly meet-ups for our members, support our local leadership team with awareness and education, input to HR policy reviews, run community sponsorships and partner with organisations like TENI, the National LGBT Federation and BeLonG To on a range of initiatives throughout the year. Our Pride Mentoring Programme provides opportunities to build mentoring relationships and enables our LGBT+ community and allies to become mentors, mentees or both.
We also have incredible support from our internal LGBT Ally Network. These are employees who take action to promote lesbian, gay, bisexual and transgender inclusion regardless of their sexual orientation or gender identity and expression. Our allies actively participate in our annual Pride celebrations and keep on top of what we are doing as a company in this space.
Something as simple as the rainbow striped lanyard our allies wear to work serves as a constant reminder of our inclusive culture, both internally and in front of our clients. Having informed, visible and vocal allies is key in creating an inclusive environment. It's also an opportunity for our employees to show their support to the LGBT+ community.
It's a continuous journey, and one that requires the commitment of all employees. Yet by taking responsibility for creating and sustaining an inclusive work environment, we all stand to benefit. Every organisation will face its own challenges and will need to figure out ways to address them, but it is worth the time, energy and investment. When people feel a sense of belonging, they are more likely to advance, drive growth and feel empowered to innovate.
© 2019 GCN (Gay Community News). All rights reserved.
This post is sponsored by Accenture
Support GCN
GCN has been a vital, free-of-charge information service for Ireland's LGBTQ+ community since 1988.
During this global COVID pandemic, we like many other organisations have been impacted greatly in the way we can do business and produce. This means a temporary pause to our print publication and live events and so now more than ever we need your help to continue providing this community resource digitally.
GCN is a registered charity with a not-for-profit business model and we need your support. If you value having an independent LGBTQ+ media in Ireland, you can help from as little as €1.99 per month. Support Ireland's free, independent LGBTQ+ media.
Hey there!
Enjoying GCN?
You have read all free 5 articles on GCN this month.