Please don't tell survivors of Mother and Baby Institutions to be patient and that the fight for our basic Human Rights will take time. We have been fighting all our lives and are tired of waiting for justice.
Since Marriage Equality and Repeal, we are full of the new Ireland conversations but for adoptees, it is still the same archaic old Ireland. We are denied our birth certificates, our medical records, and information about the circumstances of our births. We are second-class citizens and not equal in the eyes of the law.
As the Minister for Children and Youth Affairs, Katherine Zappone, announces yet another year's delay to the findings of the Mother and Baby Home Commission of Investigation and heels are being dragged around an exhumation at Tuam, Bessborough and other institutions, it is hard as a survivor not to despair of ever seeing justice.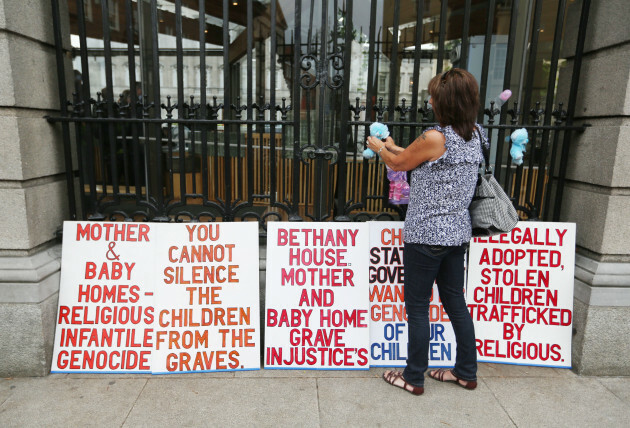 It is also worrying that Minister Zappone's focus is instead on getting the barbaric Adoption (Information and Tracing) Bill passed into law. The Bill says that in certain circumstances, adoptees will be asked to sign a statutory declaration, that they will never search for their birth families in order to access their birth certificates.
In terms of Marriage Equality, it would be like being told that you can only marry if you sign a statutory declaration that you will stay married for a period of time dictated by the State. Would you sign? Wouldn't you feel discriminated against about something that was a personal matter? Wouldn't you worry about what would happen if it didn't work out and that you might be criminalised for breaking the declaration?
As a lesbian and an adoptee, it is hard to stomach the contrast in the level of equality I now have as a lesbian versus the inequality I experience every day as an adoptee. Better to be a lesbian in modern Ireland than to have been born outside of marriage.
As an Adoption Rights activist, I have discovered depressingly how linked the Church and State still are. To quote a politician during one of my many meetings in Leinster House; "don't underestimate the seam of Catholicism that runs deep in Irish politics". That is what 100,000 adoptees like me are battling. Yeah, so where is the 'new Ireland'?
https://t.co/K2Lvk0EBxG Still an unprecedented amount of interference by the State in private family matters. Leave adoptees and birth mothers govern their own lives.#giveusourbirthcertslikeeveryothercitizen

— Noelle Brown (@BrownNollieb) February 27, 2019
Adoptees don't have the support that Marriage Equality had or the Repeal movement. We have no swell of young people taking to the streets, no sweatshirts, badges, and no Home To Vote. No one seems to care and the survivors are struggling to be heard while also dealing with feelings of shame and trauma.
It seems easier for society, including the LGBT+ community to say: "Ah sure that all happened in the past, during Ireland's dark history, everything is different now". But we don't forget our struggles in the LGBT+ community that brought us to Marriage Equality. We remember feeling like second-class citizens. It is hard to understand how people like Minister Zappone and An Taoiseach Leo Varadkar can't or won't see the similarities in adoptees' struggle for equality.
The Adoption (Information and Tracing) Bill also states that all remaining adoption files will be handed over to Tusla (Child and Family Agency).
This is not enough. The power is still with everyone EXCEPT the adopted person, who is the ONLY person in the equation who never had any control over their lives/information in the first place. https://t.co/qFQcvqJtlc @adoptionrights

— Evanne Ní Chuilinn (@EvanneNiC) February 27, 2019
I have been dealing with Tusla for 17 years trying to access information about my birth family and medical history. I have been lied to, fobbed off and treated with an utter lack of sensitivity. That is my experience and the experience of thousands of adopted people like me living in the new Ireland.
I call on the LGBT+ community to support us in our struggle. We cannot fight alone anymore. I want to embrace a new Ireland but I can't as long as I still have to suffer the consequences of being born outside of marriage 53 years ago.
To add your name to a petition asking for identity rights for adoptees in Ireland, visit https://my.uplift.ie/petitions/give-identity-rights-to-adoptees-in-ireland.
© 2019 GCN (Gay Community News). All rights reserved.
Support GCN
GCN has been a vital, free-of-charge information service for Ireland's LGBTQ+ community since 1988.
During this global COVID pandemic, we like many other organisations have been impacted greatly in the way we can do business and produce. This means a temporary pause to our print publication and live events and so now more than ever we need your help to continue providing this community resource digitally.
GCN is a registered charity with a not-for-profit business model and we need your support. If you value having an independent LGBTQ+ media in Ireland, you can help from as little as €1.99 per month. Support Ireland's free, independent LGBTQ+ media.