'The return of the Spice Girls was a pop culture event worth getting excited about': Culture Club with Conor Behan
Nostalgia is big money. Hence the never-ending stream of reunions, reboots and remakes. We are inundated with options in the entertainment world and an established name will always catch our eye.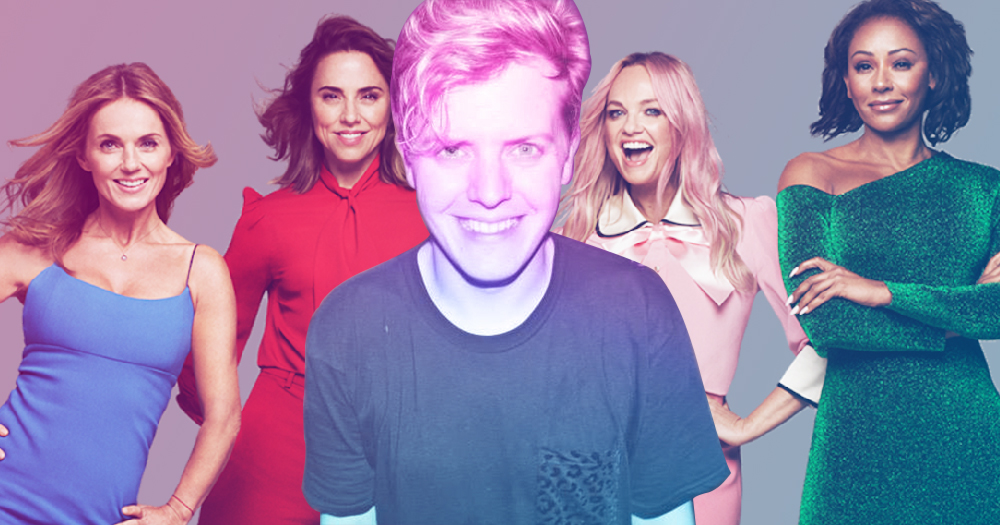 That excitement was palpable on the opening night of the tour in Dublin's Croke Park. There'd been plenty of speculation: how will it work without Victoria? Would solo material pepper the set-list? The Spice Girls had a pop dominance that may have been short-lived but it was the kind of success that left such a mark that a stadium tour based on only three albums (only two of which were truly hits) didn't feel that silly.
And of course, it wasn't just about the music when it came to Spice Girls. Their exuberant energy, their nicknames and knack for branding made them a marketing dream and larger than life in a way few pop groups manage. They impacted a generation of pop fans from excitable pre-teens taping songs off the radio to those in their late teens and 20's. And the stats back it up. 85 million records sold, nine UK Number 1s making one of the biggest selling pop groups of all time.
But would that translate in 2019? It was easy to worry that a group who hadn't toured in a decade may not be able to pull off a stadium spectacle. Thankfully, it was a joy to be proven wrong. Spice World 2019 is a triumph. The hits are there with enough polish to sound fresh while a clutch of key album tracks will cheer anyone who wore out their trusty cassette tapes.
The visuals also spoke to how relevant the feel-good factor of the Spice Girls still feels. The sleek graphics were from Studio Moross, headed up by non-binary graphic designer Kate Moross. While there were gripes about sound issues at the Dublin show (which seemed to be gone when I saw the show for a second time in Manchester the following week) the biggest takeaway for me was how affirming it was. Despite their success, the Spice Girls were never 'cool'. They were seen as pop puppets with no point of view.
Saw #SpiceWorld2019 for the second time last week in Manchester, it was night one when it was pissing rain but holy shit Spice Circle is quite the experience pic.twitter.com/xwwQ1BrDHB

— Conor Behan (@platinumjones) June 5, 2019
And yet they were hands-on in the writing of their many hit singles, at key points in their career, they either managed themselves or got themselves out of poorly managed contracts and, despite criticism they were manufactured flashes in the pan, their music still resonates for the hundreds of thousands of fans who saw this tour. These are great pop songs, delivered by women who knew what they were doing when they wrote them and still do.
Seeing the women in this group play around on stage, revel in their success and their unique bond was a joy. It was a reminder of the power of friendship and the enduring appeal of a big pop chorus no matter what music snobs might like to think. The inclusive, playful energy of the Spice Girls feels as needed as ever. Nostalgia or not, my double dose of Spice World 2019 has put a huge spring in my step.
| | | |
| --- | --- | --- |
| MUST Listen | MUST Read | MUST Listen |
| | | |
| As Drag Race pushes its star cast more and more into the mainstream, it's a thrill to watch fan favourite Alaska Thunderfuck embrace her own lane. 'Drag music' has become something of a dirty word, but on new album Vagina, Alaska has fun with in-jokes, memes and high camp topics all draped over pounding beats. Whether skewering insta-fame or offering a satirical style code, there are few queens having as much fun as Alaska. | A thoughtful and nuanced tale of three different women navigating their late 30's, Expectations is a novel that may sound simple, but as it unfolds you realise it's anything but. Anna Hope manages to create vivid, complex characters while weaving in a clever analysis of sexuality, activism and friendship. An impressive debut that will likely resonate with many readers. | With a slew of great tunes under their belt, Muna make sparkly pop with a queer indie-music sensibility. They're gearing up for their second album and lead single, 'Number One Fan', is a slice of pop magic. While it would be easy to eye-roll at the song's self-love sentiment, the delivery is witty and welcoming, making this a rousing queer anthem worthy of a spot on your Pride playlist. |
Along with Holly Shortall, Conor is the co-host of Popsessed – the unmissable pop culture podcast. Check it out here.
This story originally appeared on GCN's June 2019 issue. Read the full issue here.
© 2019 GCN (Gay Community News). All rights reserved.
Support GCN
GCN has been a vital, free-of-charge information service for Ireland's LGBTQ+ community since 1988.
During this global COVID pandemic, we like many other organisations have been impacted greatly in the way we can do business and produce. This means a temporary pause to our print publication and live events and so now more than ever we need your help to continue providing this community resource digitally.
GCN is a registered charity with a not-for-profit business model and we need your support. If you value having an independent LGBTQ+ media in Ireland, you can help from as little as €1.99 per month. Support Ireland's free, independent LGBTQ+ media.
Hey there!
Enjoying GCN?
You have read all free 5 articles on GCN this month.