Deck the halls with boughs of holly and sound the ho ho ho, these are some of the most epic queer gifts for Christmas 2019. 
Looking for some wonderful gifts to give the queer people in your life? We have you covered with heaps of festive fun goodies:
Baga Chipz Christmas card
This is among one of the best Christmas queer gifts for any Drag Race fan. Wish them 'much betta' festivities by looking back on one of the most iconic moments in Drag Race UK's debut season. You can snatch this gift up on Etsy. 
Sister Michael Derry Girls "Judging you" zipper pouch
Derry Girls was an absolute hit from episode one and this Sister Michael pouch is a hilarious gift. It comes in three different sizes so can be used in a variety of ways, such as a wallet or to keep makeup. It is made out of durable canvas material. You can find it over on Redbubble.
Cosmic queer notebook
This notebook is a great gift to any queer person who is just out of this world. With a stunning design on the cover, this notebook would be a helpful tool to write or doodle on through the next year. You can find it on Teepublic. 
Cinnamon Rolls Not Gender Roles pin
Want to get a good gift for that gender non-conforming snacc in your life? This pin would be a great addition to any denim jacket or backpack. Gold plated and just downright cute, this pastel statement pin would be a wonderful present. You can find it on Etsy. 
I'm Boosexual mug
For all those bisexual people with a spooky streak, this I'm Boosexual mug blends all the joy of Christmas with a pinch of Halloween to form the ideal gift. This mug is sure to bring a smile to the face of any coffee or tea drinker. You can pick one up on Etsy. 
Where are my lesbians? enamel pin
Everyone's favourite character from the hit movie Pride is now on a pin. Gwen's famous line "Where are my lesbians?" as well as Steph's iconic "Terrific. Let's bring down the government" are memorialised on a gorgeous badge. You can find one at Etsy. 
Katya "Black Metal" shopper tote bag 
"Yekaterina Petrovna Zamolodchikova/But your dad just calls me Katya." Katya is living her Black Metal fantasy with this amazing tote bag. Everything about this bag works perfectly and can be found on Drag Queen Merch. 
The Wicked + The Divine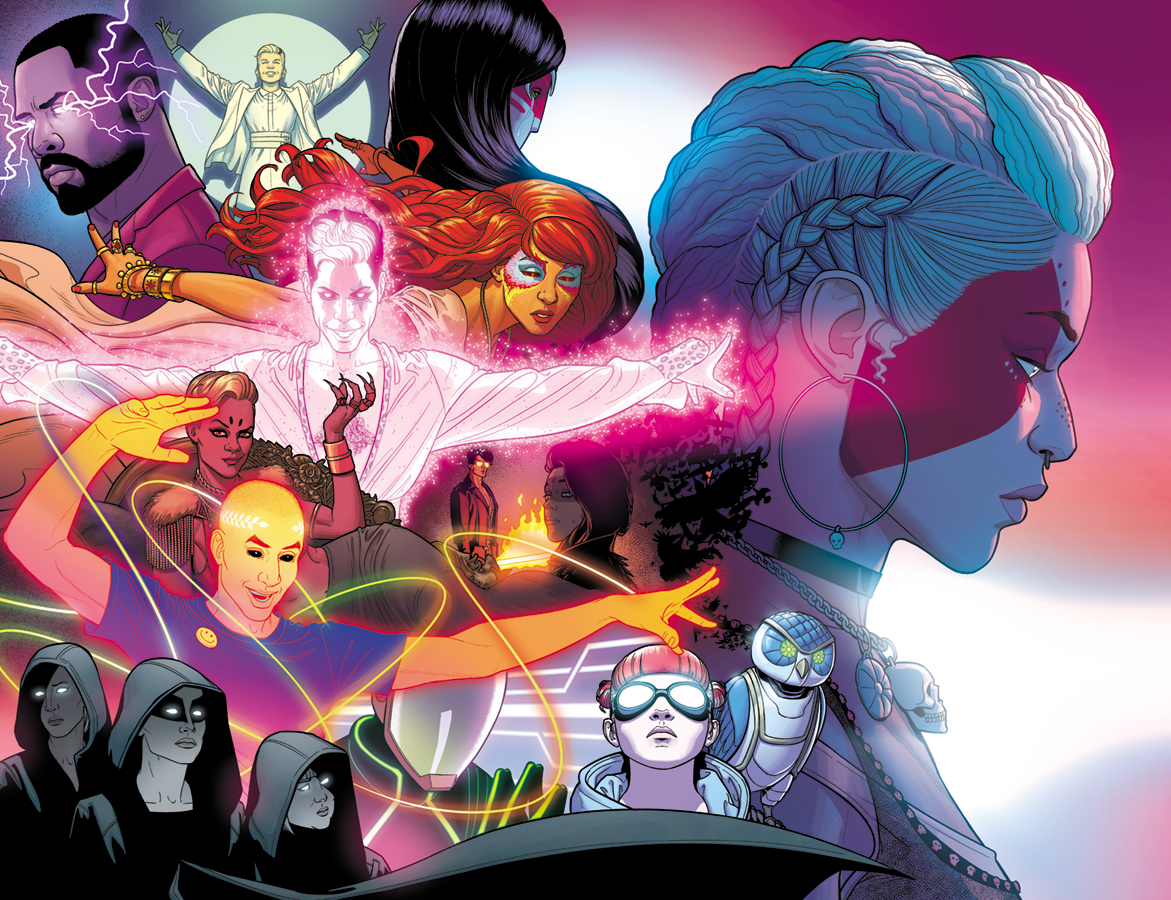 Now that this legendary comic series has come to an end, this would be the perfect time to pick up the books. With eye catching panels and moving storylines, the Wicked + the Divine was an exceptional series with fascinating depictions of queer life. You can pick up the volumes at Forbidden Planet and other comic book stores in Dublin.
GCN subscription
With the gift of a GCN subscription, you will be giving a whole year's worth of queer surprises and content. As part of the subscription, the lucky recipient will be receiving a monthly copy of Ireland's leading LGBT+ magazine as well as year-round exclusive discounts with the Q Card – the passport to queer life! You can find all this at the following link. 
I'm Baby gold plated necklace
The online Drag Queen Merch has a lot of fun statement necklaces to add a dash of sass to anyone's look and provide numerous queer gifts for Christmas 2019. The I'm Baby necklace plays off a staple meme and would look great for a fun New Year's Eve look. Follow the link to browse the wide selection. 
Disney+ subscription
Baby Yoda has left the internet shook and with the gift of a Disney Plus subscription, you can get the chance to catch up on where it all started. Disney Plus acts in a similar way to Netflix and contains thousands of classic movies and series. This present will let a person get their binge on. You can sign up at the Disney+ website. 
Garnet phone case for Samsung Galaxy and stickers
This stunning Garnet phone case is a fabulous gift for all the big cartoon nerds in your life. The shades of pink and purple blend together to form an eye-catching portrait of the character. With an added touch of a heart, this case is jaw-dropping. You can get one over on Redbubble. 
The Queer-er-est sticker
Continuing the trend of queer gems, the sticker would look great on a laptop or maybe a cosmic queers notebook perhaps. It comes in three finishes: matte, glossy, and transparent. Find one at Redbubble.
The L Word box set
With The L Word returning to our screens in 2019, this is a great time to look back on past seasons as part of this year's queer gifts. The L Word was revolutionary in its depictions of LBT+ women. Other great box sets to check out would be Queer as Folk and Will and Grace. You can pick one up over on Amazon. 
© 2019 GCN (Gay Community News). All rights reserved.
Support GCN
GCN has been a vital, free-of-charge information service for Ireland's LGBTQ+ community since 1988.
During this global COVID pandemic, we like many other organisations have been impacted greatly in the way we can do business and produce. This means a temporary pause to our print publication and live events and so now more than ever we need your help to continue providing this community resource digitally.
GCN is a registered charity with a not-for-profit business model and we need your support. If you value having an independent LGBTQ+ media in Ireland, you can help from as little as €1.99 per month. Support Ireland's free, independent LGBTQ+ media.